Realtime IM/Chat Notification
from procmail and other event generating tools
... using PSYC
Carlo v. Loesch (psyced.org)
___(the /me-guy)
Stephen R. van den Berg (Cubic Circle BV)
___(the procmail-guy)
overview: events
in real-time:
e-mail
wiki edits
forum/blog posts
system monitoring
software check-ins

SMTP is a push technology with messages traveling our way rather than us having to look for them. Yet, during the 90s we stopped reading our mail on our mail servers, e-mail clients needed protocols to access our e-mails and now these e-mail clients periodically ask the server for new mail rather than receiving it in real-time. This introduces an unnecessary latency in e-mail conversation. This talk provides a practical solution how procmail can be used to forward a mail's author and subject line straight to an IRC, XMPP or PSYC client, so at least you know when a new e-mail has arrived, immediately, and you can hit that "Get Mail" button. You can even set up such a mechanism for all users on the system, so they don't have to figure out procmail by themselves. We will also show realtime notification interfaces for software versioning system check-ins, syslog daemon events, Mediawiki edits, Phpbbs and Drupal message submissions. All of these things can be brought to you in real-time rather than by e-mail or not at all. http://www.linuxtag.org/2007/de/conf/events/vp-donnerstag/vortragsdetails.html?talkid=64
overview: display
how to show?
popups? naaah
Jabber message
IRC channel
webchat
PSYC newscast
10 minutes? eh!?
thunderbird's defaults: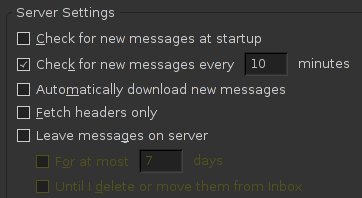 ... latency in e-mail!
SMTP can be real-time
SMTP? real-time!
spooling no must
greylisted?
SEND, SOML, SAML?
POP and IMAP spoiled it
your port 25?
procmail
most common mail delivery agent
aged, robust and proven
sorts mails
weeds out spam
event driven, no polling
PSYC in your .procmailrc
after weeding out spam and boring stuff:

:0 hc
!psyc://psyced.org/~nickname

! = forward action
h = header
c = continuing recipe
0 = don't ask
jabber in your .procmailrc

PSYCRELAY=psyc://localhost

:0 hc
!xmpp:user@jabber.example.net

procmail does no XMPP
too complex. too time critical.
procmail uses PSYC relay
http://about.psyc.eu/procmail
let's wear a uniform!
psyc://psyced.org/~lynX is my uniform
because humans are not resources
addresses users at PSYC servers
simple UDP packet
(optional shared secret)
how does that look like?
what a weird protocol!

.
:_target    xmpp:user@jabber.example.net

:_origin    Mary Foo <spam@gotthroo.example.com>
:_subject   Vulcans: VIAGRA for your ears!
:_nick_alias	bombMail
_notice_received_email
([_nick_alias]) [_origin]: [_subject]
.

how can i see that?
a psyced server is multi-protocol
IRC client
XMPP client
webchat.. telnet..
PSYC client!
pidgin receiving a notification
procmail -> psyced -> jabberd -> gaim

(type='headline' == unpleasant pop-up)
ircII receiving a notification
procmail -> psyced -> IRC client

do i have to use your server?
no, it's open source
psyced in C and LPC
alternatives in development
PSYC is a decentralized
optimized for interserver
IRC & XMPP good with clients
mail notify for all!
and now what about a global /etc/procmailrc

:0 hc
!psyc://localhost/~$LOGNAME

users use 'any' software to get notified
authentication plan needed
mediawiki notify plugin
(Wiki:lynx) has made a major change in
http://about.psyc.eu/Routing saying: packet ids
(Wiki:fippo) has made a minor change in
http://about.psyc.eu/Wikinotify
-> discussion channel
also via 'MUC'
output flavor
the php source for this:
mediawiki notify plugin source

function psycnotify($art, $user, $text, $sum, $isminor, $isw, $sect) {
    global $psyctarget, $psychost;

    $url = "http://" . $_SERVER['SERVER_NAME'];
    $url.= str_replace("index.php?title=","index.php/",substr($_SERVER['REQUEST_URI'],0,-14));
    $s = ":_target\t$psyctarget\n\n"
       . ":_nick_wiki\t". strToLower($user->mName) ."\n"
       . ":_article\t". $art->mTitle->mTextform ."\n"
       . ":_page\t$url$sect\n";
    if ($sect) $s.= ":_section\t$sect\n";
    if ($sum) $s .= ":_summary\t$sum\n";
    $mc = "_notice_update_wiki";
    if ($isminor) $mc .= "_minor";
    $s.= $mc."\n(Wiki:[_nick_wiki]) has made a ".($isminor?"minor":"major")." change in [_page]\n";
    if ($sum) $s .= "saying: [_summary]\n";
    $udp = fsockopen($psychost, $psycport);
    fwrite($udp, ".\n". $s .".\n");
    fclose($udp);
    return true;
}
$wgHooks['ArticleSaveComplete'][] = array('psycnotify');

mediawiki notify installation
psyced with #wikinotify channel ready
install on same machine, or config trust
join #wikinotify via IRC
psyc://wiki.example.org/@wikinotify via PSYC
xmpp:*wikinotify@wiki.example.org via jabberMUC
blogs, forums and mp3
drupal notify? same thing
http://about.psyc.eu/Drupal
psyc syndication for phpbb even has an admin interface
perl! http://perl.psyc.eu
psycmp3: now playing
remote control it
cvs2psyc
edit $CVSROOT/loginfo:
DEFAULT /path/cvs2psyc psyc://example.org/@cvs '%r' '%p' '%s'
sends _notice_update_software_CVS
(CVS:lynx in psyced/place) tagesschau.c changed: new feed url
multicast distribution
programmable places